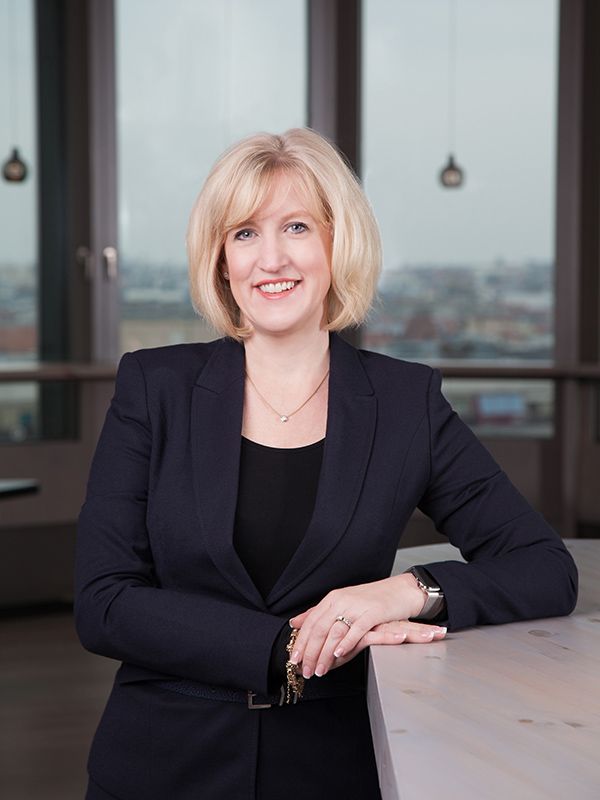 Managing Partner EY Germany Switzerland Austria
EY assumes its social responsibility – beyond auditing and advising. We have a number of initiatives that support responsible entrepreneurship, environmentally sound activities and young people as they set out on their professional careers. Here is a summary of our initiatives:
EY Entrepreneurial Winning Women™ Programme
Access to capital, successful role models and networks that promote business are of the utmost importance for entrepreneurs. EY Entrepreneurial Winning Women™ is a mentoring programme we have used for many years to support female founders and entrepreneurs. We assist programme participants for one year and help them grow their companies, realise their full potential and implement their personal visions of the future. All female entrepreneurs with an innovative digital business model can apply. Further information can be found here.
"Get in motion" was the slogan which saw EY employees in autumn 2018 work up a sweat, laugh, relax and recharge their batteries together. The first EY Swiss Vitality Weeks EY offered a variety of courses over a four-week period for everyone, regardless of position or department. In addition to yoga and functional fitness, EY employees rode the Urban Surf Wave in Zurich, sampled smoothies and used targeted webcasts to learn how to take advantage of mindfulness for greater focus and relaxation. [Short video] Snacks for a healthier attitude in the workplace and techniques to ensure proper breathing also help to ensure balance between body and mind in the rapidly-evolving work environment.
EY Public Value Award for Start-ups: Recognition for impact entrepreneurs
The "Building a better working world" approach applies not only in our advisory practice, but also in our initiatives in the area of corporate responsibility. An example of this is the "EY Public Value Award for Start-ups". Together with the Leipzig Graduate School of Management, EY has been giving this award since 2016 to a growth-oriented business idea that simultaneously solves a social problem, takes moral and ethical standards into account and improves the coexistence between different groups.
EY is highly satisfied with the results so far of what is still a very new award. The high level of interest among start-ups in this competition shows that start-ups actively question their role in society, confront the issues and questions of our time with their business ideas and use their innovation to solve these issues. The competition has gained international attention. Company founders from Switzerland, the Netherlands, Germany and Austria are taking part in this year's event. This will expand and invigorate what is already a lively network that has developed on the basis of the award.
More information can be found here.
Girls in mathematics, IT, science and technology professions – We support the next generation
For the first time in 2018, EY and around 100 of its employees visited 24 schools in Switzerland, Germany and Austria to inspire girls between the ages of 11 and 15 to choose careers with a focus on mathematics, IT, science and technology. Working in half-day workshops, the volunteers aimed at showing the 600 or so participants the basics of app coding, but in a fun way.
The workshops, which were conducted as part of the UN "Girls in ICT Day" initiative, were accompanied by a broad social media campaign. Our goal for next year is to get more than 40 schools in the region to participate in the project day.
Internally, the commitment is centred on EY's strategic focus in the area of corporate responsibility – "Supporting the Next Generation" – with the aim of preparing young people for the future and providing them with the skills and competencies they will need.
Wir unterstützen die nächste Generation
Environmental responsibility for all
In line with our efforts to provide our employees with mobility and flexibility, we provide them with a half-fare card to encourage the use of local and intercity public transport.
Thanks to the increased use of videoconferences throughout Germany, Switzerland and Austria, EY has not only saved 10 per cent on travel costs but also reduced its CO2 emissions compared to the previous year by 10 per cent.
In addition, all branches in Switzerland use exclusively renewable energy, rubbish is recycled and selected hardware is donated to charitable organisations.
Climate change and sustainability services
With our Climate change and sustainability services programme, we also support our clients in organising the activities of their company in accordance with the principles of sustainability and environmentally and socially responsible corporate governance.
In doing so, we are creating the framework for sustainable growth and a reduction of energy and resource consumption. We take into account the fact that the success of a company is no longer measured solely in terms of facts and figures. Investors and stakeholders are increasingly scrutinising the sustainability of business models. We take a comprehensive approach and advise our clients to integrate comprehensive solutions with respect to sustainability, climate change and resource management in their management systems.
EY refers to the global organization of member firms of Ernst & Young Global Limited, each of which is a separate legal entity. Ernst & Young Global Limited, a UK company limited by guarantee, does not provide services to clients.